The greatest positive contribution of WW II was that it changed air transportation dramatically.

New technology led to advanced piston-engine aircraft and new solutions were made available to the problems of navigation and air traffic control.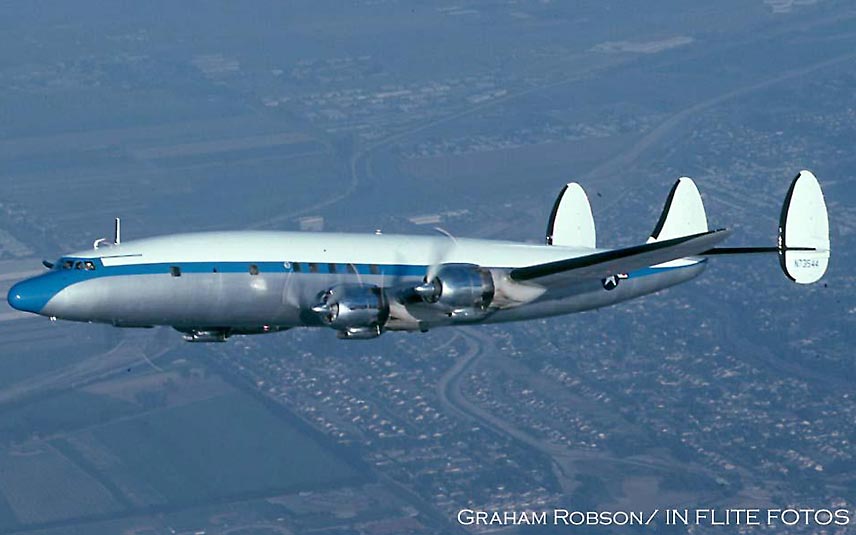 A few large airlines like TWA and Pan American continued to dominate. Air traffic grew steadily, as it reduced the travel time. Lower fares due to competition made air travel available to an increasing number of people and the flights' quality continued to improve gradually.
Pictured above, is

Lockheed Super Constellation (nick named "Connie"). This was a propeller-driven aircraft, powered by four 18-cylinder radial engined R-3350 by Wright Engine Corporation. This aircraft was built by Lockheed Aircraft Corporation USA

between year 1943 to 1958 at Burbank California. Air India used these aircraft extensively till 1970.
Total 856 aircraft were manufactured in four models ranging from C69 to C121, all distinguished by a unique triple-tail design and a dolphin-shaped fuselage. The Constellation was used as a civilian airliner and as military air transport, including Indian Air Force. It had the privilege of being Air Force one (Aircraft for U.S. President D D Eisenhower.
Franklin Roosevelt was the first president to fly while in office. He flew to the 1943 Casablanca Conference in Morocco to plan the Allies' European strategy in World War II. Air travel for VIPs became preferred mode of transportation over ships due to threat from submarines.
The photo above shows first crew of first Presidential VIP Aircraft "Air Force One", C-87 Liberator Express. Below, President Roosevelt inside the first "Air Force One".
Some Facts:

US railway had reached peak length between 1920 & 1930s.

While airplanes contributed to a decline in rail travelers, automobiles made railways in the US virtually a museum piece.
In 1955, for the first time, more people in the United States traveled by air than by train.
By 1957 airliners had replaced ocean liners as the preferred means of crossing the Atlantic.
The 60s saw decline of railways in the USA.
For today's US children of most of the major US cities, railways (in the US the call it "rail road") can be seen in Museums only. For a 10 minute joy ride in rail coach drawn by a steam loco (that burns Furnace Oil instead of coal), they pay $10 (Rs 480/-).
----- V S Saxena. Any question? Please email me at